The president of France, Emanuel Macron, and the president of the European Commission, Ursul Von Der Leyen have reached China to discuss the matter of Russia Ukraine war. Chinese President Xi Jinping received Macron and Leyen. Macron asked Xi to exert its influence on Russia to end the war. Leyen asked China not to supply arms and support to Russia.
Macron and Xi Jinping:
Macron's visit to China was a three-day trip from April 5 to 7, 2023. He met with China's leader Xi Jinping and discussed various topics, including the war in Ukraine, nuclear safety, lunar exploration, and cultural cooperation. He also visited Guangzhou and spoke to students at Sun Yat-sen University. He tried to persuade China to help end the war in Ukraine, but China did not condemn Russia's invasion or change its stance on the conflict. He also urged China to respect international law and the UN charter.
Ursula and Chinese officials:
Ursula von der Leyen, the president of the European Commission, accompanied Macron on his visit to China. She met with Chinese officials and discussed issues such as trade, climate change, and human rights. She also expressed her concerns about the war in Ukraine and urged China to respect international law and the UN charter. She said that EU-China relations are complex and need to be reset and de-risked. She also welcomed China's openness to dialogue with Ukraine's president.
Chinese Response to Ursula:
China responded to Ursula von der Leyen's concerns by reiterating its position of non-interference and respect for sovereignty. China also said it supports a peaceful resolution of the war in Ukraine through dialogue and negotiation. China did not agree to pressure Russia or condemn its actions. China also said it would not supply weapons to Russia or any other party involved in the conflict. China expressed its willingness to talk to Ukraine's president when the conditions and time are right. China also emphasized the complexity and importance of EU-China relations and called for mutual respect and cooperation.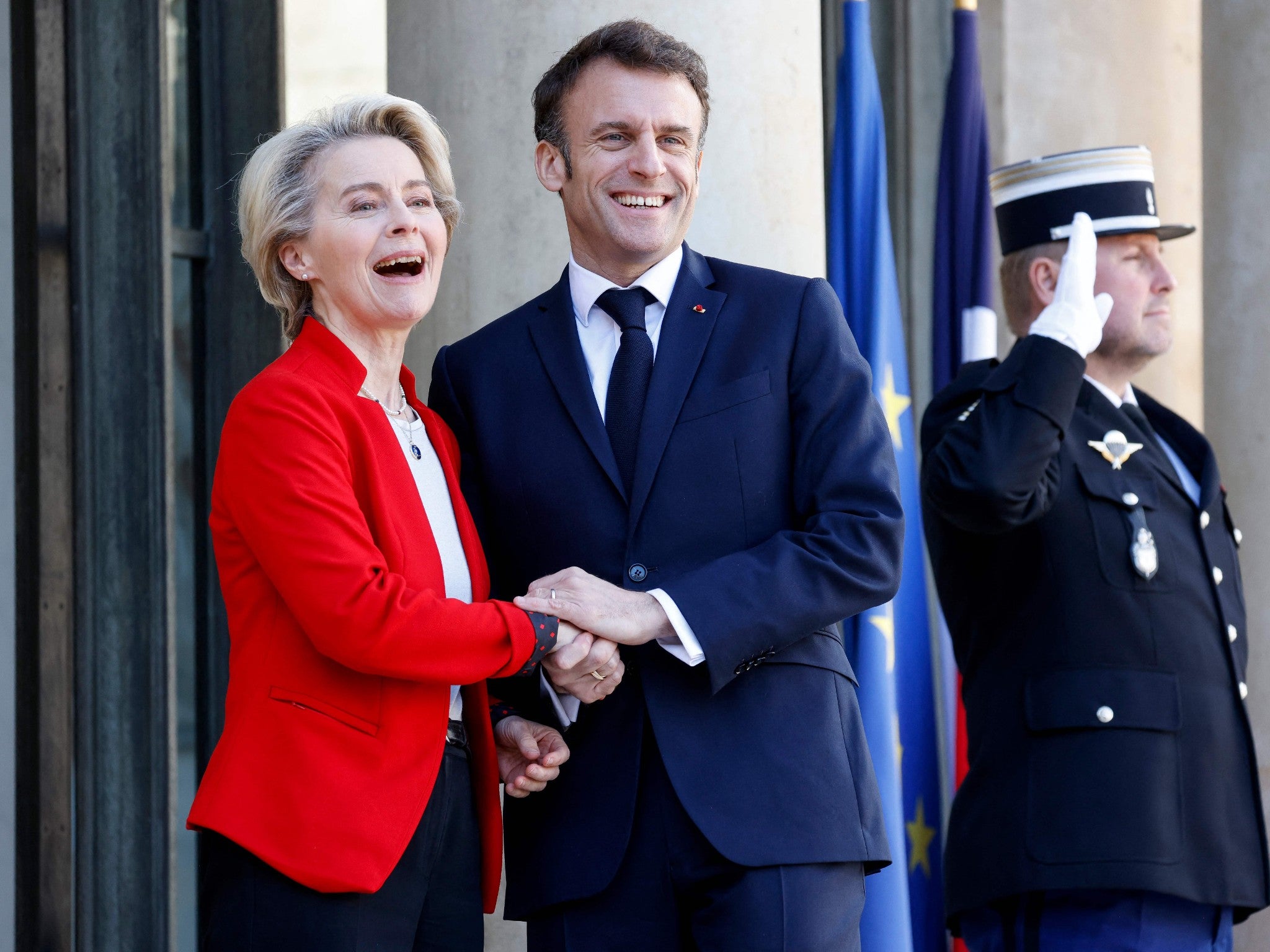 Bckground:
.
The war between Russia and Ukraine is considered the worst fight in Europe after WWI. Russia invaded Ukraine due to its alliance with NATO. Before the Russian invasion of Ukraine, President Macron visited Moscow and requested the Russian president not to invade Ukraine. Macron has serious concerns over the balance of power in the region. After the Russian invasion, Xi Jinping also visited Moscow and proposed a road map to a ceasefire. China has declared neutral in the Russian-Ukraine War
Diplomatic Relationships between China and France:
France and China have a history of diplomatic relations and economic cooperation. In recent years, there have been high-level visits between the two countries, including a state visit by Chinese President Xi Jinping to France in 2019 and a visit by Macron to China in 2018. During these visits, the leaders discussed various issues, including trade, investment, climate change, and international relations. If you have any specific questions, I'll do my best to help answer them.
Final Words:
.
The visit of Macron and Ursula could not bore fruit as it was expected. Even China launched its military drills in Taiwan. It is like making fool of the diplomatic visit. After Ukraine, Taiwan may also face war from China border. So, another war may also start in the world. So, the visit could not give output as it was expected.
FAQs:
Who visited China to discuss the Ukraine war?
French president, Emanuel Macron accompanied by Ursula Von Der Leyen visited China to discuss the matter of war.
Who is the president of the Europen Commission?
Ursula Von Der Leyen is the president of Commission of European Union
.