.
On March 21, Zelensky called with Japanese prime minister and said that Beijing has joined Ukrainian Peace Formulae. But the situation was ambiguous because there was no response from China. But yesterday's call of Zelexnsky with President Xi has clarified the situation. Zelensky discussed the peace formula with President Xi and Xi talked about China's China's Peace Plan. It is the first time talk between China and Ukraine ended the war.
Xi-Zelensky Talk:
Chinese President Xi Jinping and Zelensky exchanged their ideas on Ukraine Russia War. Zelensky said that both China and Ukraine respect the sovereignty and integrity of every nation. He added that China can use its political power to apply Peace Formula. On the other hand, Xi proposed China's peace plan to end the conflict. This talk between two status men was managed by  Nykyforov, the Zelensky spokesperson. Nykyforov said that this is the start of talks and it will continue in the future. On the same day, Zelensy appointed a new Ukrainian ambassador to China.
Background:
Both Russia and Ukraine are trying to make more and more allies. They want to take moral support for themselves from the outside world. Therefore, it is the first time talking between China and Ukraine. Last month, the Chinese president visited Moscow and discussed the situation with Putin. Viladmir Purtin received warmly Xi in Kremlin. Xi said that Russia and China are great neighboring countries and have similar strategic goals. He also invited Putin to visit China this year.
Japan's prime minister Fomio Kishida and Zelensky also met in Kyiv last month. Japanese prime minister joined Western allies to impose sanctions on Russia. Koshida's visit to Ukraine was in response to Xi's visit to Russia.
But talk between Ukraine and China is a wondering thing. In fact, Ukraine has the support of all Western Countries. Now it wants to get the support of the biggest political giant in Asia- China.
US and EU welcomed to Xi-Zelensky talks:
China said that it will send special representatives to Ukraine to calm down the war. Hungarian prime minister praised China's role to melt the ice between Ukraine and Russia. The United States, NATO, and EU welcomed the talks between China and Ukraine. They all want China's support for Ukraine.
Two weeks before, the French president and the president of the European Commission also visited China. But their visit could not bring positive results. But now European Union hopes China will play a role to end the war.
Zelensky Peace Formula:
Radiation and nuclear security, with a focus on reestablishing security surrounding Europe's largest nuclear power plant, Zaporizhzhia, which is currently occupied by Russia1. Food security, ensuring access to food and water for millions of Ukrainians living under Russian occupation or in the conflict zone2. Energy security, reestablishing Ukraine's control over its gas pipelines and energy infrastructure that Russia has taken or damaged.
Demanding the release of all prisoners of war and deportees as well as the release of all Ukrainian people that Russia has imprisoned or forcefully relocated since the invasion3. Complete withdrawal of all Russian forces from all of Ukraine, including Crimea and Donbas; 2. Restoration of Ukraine's territorial integrity; 3. Reaffirmation of Ukraine's sovereignty over its internationally recognized borders; 4. Calling on Russia to respect the UN Charter and international law.
Restoration of Ukraine's territorial integrity, adherence to the UN Charter, affirmation of its sovereignty over its internationally acknowledged borders, and a request to Russia to uphold these principles.
Russian military must completely leave Ukraine, including Crimea and Donbas, where they have been aiding rebel forces since 20142.
War crimes should be punished, and a special tribunal should be established to hold Russia responsible for its aggression and abuses of Ukrainian human rights.
Protection of the environment, halting Russia's ecocide in Ukraine, which has seriously harmed the ecosystem both inside and outside of the seized regions.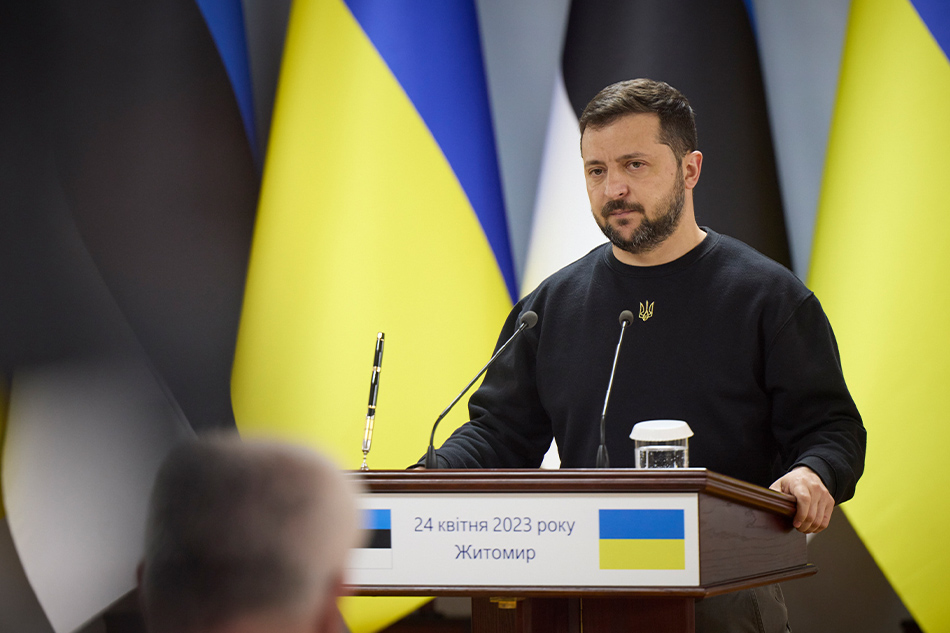 China's Peace Plan for Ukraine:
Chinese foreign minister formulated a peace plan for the Ukraine war. Now China is sticking to its peace plan for the solution to the war. Following are the key points of China's Peace plan.
·       Respecting the sovereignty of all countries and upholding the UN Charter
·       Abandoning the Cold War mentality and avoiding strengthening or expanding military blocs
·       Ceasing hostilities and resuming peace talks
·       Resolving the humanitarian crisis and protecting civilians and prisoners of war
·       Keeping nuclear power plants safe and preventing the use of nuclear, biological, or chemical weapons
·       Reducing strategic risks and avoiding actions that could escalate tensions
·       Facilitating grain exports and ensuring food security for millions of Ukrainians
·       Stopping unilateral sanctions and respecting international trade rules
·       Keeping industrial and supply chains stable and avoiding disruptions to global markets
·       Promoting post-conflict reconstruction and supporting economic and social development in Ukraine.
Final Words:
The world should welcome China-Ukraine talk. USA, Europe, and  China should use their political influence in the region to end the war. United Nations should take the two countries on the table for forming a solution. There should be a balance of power for further proceeding of war.